Count on Us for Your Transmission & Drivetrain Repair Needs
The professionals at Grapevine Automatic Transmission Center & Complete Drivetrain Repair specialize in providing high-quality transmission repairs. Whether you own a foreign or domestic vehicle, count on us to take care of your transmission and drivetrain repair needs effectively. You will be pleased to know that we use top-quality auto parts to complete your repairs on your vehicle.
Transmission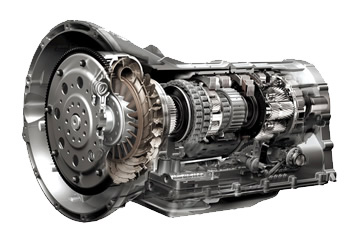 The transmission serves three main roles: It connects and disconnects the motor from the rest of the drivetrain (drive shafts, axles, wheels). It provides gearing that allows the engine's limited range of operation to take the car from a standstill to high speeds. It allows the driver to change direction from forward to backward. Additionally, transmissions can serve to hold the car in place when it's off, either in the Park setting (automatics) or by remaining in gear (manuals).
- Transmission Service
- Transmission Repair
- Transmission Rebuilds/overhaul
- OEM Factory Remanufactured Transmissions
- CVT Transmission
- Remanufactured Transmission
Transfer Case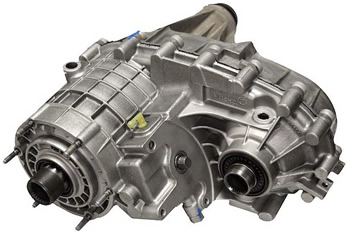 On four-wheel-drive vehicles, the transfer case contains gears that connect a second drive shaft to send power to all four wheels instead of just the front or rear ones. The transfer case on some vehicles, particularly those intended for off-road use, are engaged by a separate gear lever or electric buttons or a rotary switch on the dashboard. Most off-road 4WD vehicles have transfer-case positions for rear-wheel drive; 4WD High, for on-road operation; and 4WD Low, for off-road and demanding on-road use. All-wheel-drive vehicles often don't have a transfer case lever or switch; instead, AWD engages or disengages automatically based on driving conditions. Some transfer cases have the ability to send all the power to either the front or rear when needed.
- Transfer Case Service
- Transfer Case Repair
- 4-wheel Drive Repair
Drive Shaft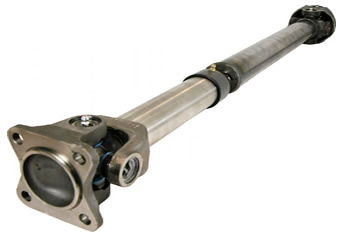 The driveshaft is a spinning metal shaft that transmits power from the transmission to the wheels via separate axles. Universal joints allow drive shafts to move up and down with the suspension while the shaft is moving so power can be transmitted when the drive shaft isn't in a straight line between the transmission and drive wheels. Rear-wheel-drive vehicles have universal joints (or U-joints) at both ends of the drive shaft. Front-drive vehicles also use two joints, called constant velocity (or CV) joints, but they are a different kind that also compensate for steering changes. On rear-drive vehicles, one sign of a worn U-join is a "clank" sound when a drive gear is engaged. On front-drive vehicles, CV joints often make a clicking noise when they're worn. CV joints are covered by protective rubber boots, and if the boots crack or are otherwise damaged, the CV joints will lose their lubrication and be damaged by dirt and moisture.
- CV Joint Axles
- U-Joint
- Drive Axle
- Drive Shaft Service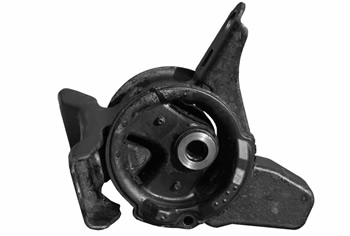 Motor and Transmission Mounts
Rubber covered and hydraulic filled mounts that hold the engine and transmission to the frame to keep everything aligned reducing the wear on the axles and drivetrain. Worn mounts can allow the engine to move excessively in the engine bay and cause other issues.
- Motor Mounts
- Transmission Mounts
Differential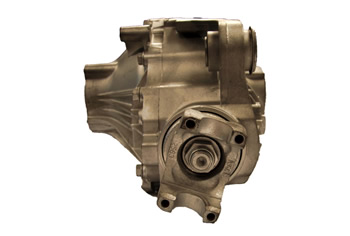 The differential is a system of gears that allows different drive wheels (the wheels to which power is delivered from the engine) on the same axle to rotate at different speeds, such as when the car is turning. A differential is also the component through which a rotating driveshaft can change direction; for example, in a rear-wheel-drive car whose driveshaft runs the length of the car, it joins and transfers its power to an axle that runs perpendicular to the car to drive the left and right wheels. Note that a car with four-wheel drive can have two or more differentials. A failing differential can cause vibration, binding during turns and/or sounds ranging from clunking to howling.
- Differential Rebuild
- Differential Repair
- Differential Fluid Service
Automatic Transmission Fluid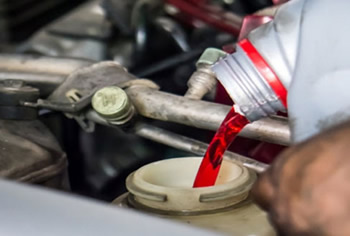 Like other vital automotive fluids, transmission fluid deteriorates over time. Hard use - such as frequent stop-and-go city driving, hauling heavy loads, trailer towing - will accelerate the deterioration. That kind of driving raises the operating temperature of the transmission, and heat puts more strain on the transmission and the fluid, which helps facilitate gear shifts, cools the transmission and lubricates moving parts.
- Manual Transmission Service
- Automatic Transmission Service
- Transmission Fluid Replacement
Serving Dallas / Fort Worth for Almost 50 Years!
With over 46 years serving customers in Grapevine, TX our transmission repair shop specializes in drivetrain and transmission service and repairs for most domestic and foreign cars, pick-up trucks & SUV's. Call today to speak with one of our transmission specialists.
We Provide a Wide Range of Transmission & Drivetrain Services:
Transmission Service
Transmission Repair
Transmission Rebuilds/overhaul
OEM Factory Remanufactured Transmissions
CVT Transmission
Remanufactured Transmission
Differential Repair

Manual Transmission Service
Automatic Transmission Service
Transmission Fluid Replacement
Transfer Case Service
Transfer Case Repair
4-wheel Drive Repair
Clutch Repair Service
Differential Rebuild

Clutch Replacement
Drivetrain Repair
CV Joint Axles
Drive Axle
Drive Shaft Service
Motor Mounts
Transmission Mounts
Differential Fluid Service